Robots of the future
Robots of the future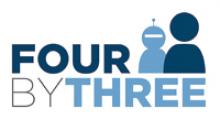 15 European partners will build the safe robots of the future and CNR will be part of the challenge.

FourByThree is a European project aimed to design, build and test pioneering robotic solutions able to collaborate safely and efficiently with human operators in industrial manufacturing companies.   15 European partners including research centres, industrial and technological companies, and a university are uniting their efforts. They are located in Spain, Germany, Italy, Finland, Holland and the United Kingdom. The project coordinator is Spain-based research alliance IK4-TEKNIKER.

The project started on December 1st, 2014, and will last for 36 months. It has a total budget of 6.9 million euros and is partly funded by the EU within the European Framework Programme for Research and Innovation, Horizon 2020 (grant agreement nº 637095).

FourByThree responds to the demand that robots used in industry do not only provide accuracy and efficiency, but are also able to ensure safety when collaboration between operator and robot is required, even when the workspace is shared. Thanks to the development of innovative hardware and software, the robotic solutions proposed by FourByThree will be modular, safe, usable and efficient.

The CNR - Italian National Research Council (http://www.cnr.it/) takes part in the FourByThree project with two of its institutes and respective facilities: the Institute of Industrial Technology and Automation (ITIA, Milan) and the Institute of Cognitive Science and Technology (ISTC, Rome).

As for CNR-ISTC, it contributes to the project with the Planning and Scheduling Technology Lab (PST - http://istc.cnr.it/group/pst), a group with a large experience in Artificial Intelligence techniques for automated and interactive problem solving.  The ISTC researchers will focus on the investigation of Human-Robot Interaction aspects while addressing cooperative scenarios in which human operators share the working space with robotic platforms. The design and development of an AI-based planning system will be pursued providing the FourByThree infrastructure with multimodal personalized interactions and safety critical planning and execution capabilities. Final goal is the one of synthesizing a control system capable of harmonizing activities performed by robotic platforms and human operators when acting in close interaction.
On December 17-18, 2014 Amedeo Cesta and Andrea Orlandini participated in the technical kick-off of the project in Eibar, Basque Country, Spain.  The official project presentation day will take place in Bruxelles on January 15, 2015.
A first news in Italian appeared on the Media 2000 weekly newsletter (read here) of  January 15, 2015.