Gianluca Baldassarre
Email:
gianluca.baldassarre@istc.cnr.it
Telephone:
+39 06 44595231
Address:
Gianluca Baldassarre, PhD, Researcher
Istituto di Scienze e Tecnologie della Cognizione,
Consiglio Nazionale delle Ricerche (ISTC-CNR),
Via San Martino della Battaglia 44, I-00185 Roma, Italy
Profile
Keywords:
Associative and Unsupervised Learning;
Attention and Active Vision;
Computational embodied neuroscience;
Cumulative Autonomous Learning;
Developmental robotics;
Extrinsic and Intrinsic Motivations;
Goals and Decision Making;
Hierarchical Sensorimotor Architectures;
Open-ended Learning;
Pavlovian and Instrumental Learning;
Reinforcement Learning;
Short profile:
Hello! I would really like to know you in person, and all others, but they say people are about 7,289,694,931 and my life time is unfortunately so short...
By the way, my name is Gianluca Baldassarre. This web-site is mainly about scientific stuff. I graduated in Economics at the University of Rome with the idea I wanted to do something useful for people. Maybe the choice of Economics was a mistake and I should have studied physics instead, since I liked it much at the high school. During the BA-MA I attended some courses in Philosophy as I was always interested in what mind and knowledge are. However, I thought philosophy was not enough scientific (at least in Rome), so I later did a Specialisation School (Master) in Neural Networks and Cognitive Psychology at the same University of Rome. Afterwards, I did a PhD in Computer Science at the University of Essex, UK, focussing on artificial intelligence. Before, during, and after the PhD I have been studying a lot of psychology and neuroscience. After the PhD, I came back to Rome, at the CNR-ISTC where I have been ever since, and where I am now a Researcher and Coordinator of the research group LOCEN (Laboratory of Embodied Computational Neuroscience).
The broad goals of my research are three: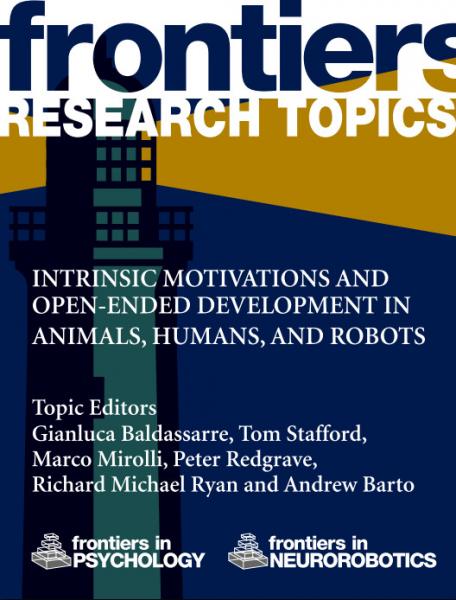 Understanding the core mechanisms of human intelligence and behaviour by understanding the overall architecture and functioning of brain and how it produces behaviour, in particular how brain can learn cumulatively by interacting with the body and the environment under the guidance of extrinsic and intrinsic motivations. To this purpose, I build computational system-level computational models of brain and behaviour, and of mental diseases: trying to understand the healthy and the ill brain is highly synergistic; plus it is useful for people.

Producing a robot that can autonomously learn knowledge and skills in a cumulative open-ended fashion. In particular, the robot should explore the environment, self-generate goals (based on curiosity and intrinsic motivations such as novelty, surprise, the accomplishment of tasks), learn skills to accomplish those goals, and use the acquired goals and skills to learn other increasingly complex/abstract goals, skills, skill sequences, hierarchies -- what I deem to be the true artificial intelligence.

Contribute to solve humanity problems (after many years of reasoning on this, I think I have now a plan... ;)
This is a same story with dates and some more details:
1996: BA and MSc in Economics (Thesis: Simulation of oligopolistic competing agents)
1996-1997: MSc in Cognitive Psychology and Neural Network Modelling (Thesis: A model of eye-arm coordination)
1997-1998: Research Assistant, Institute of Cognitive Sciences and Technologies, Italian National Research Council (ISTC-CNR), Rome, Italy (Research: A model of attention. Model of cultural evolution)
1998-2001: PhD in Computer Science (Thesis: Planning with neural-networks and reinforcement learning), University of Essex, UK
2001-2005: Postdoc at ISTC-CNR (Research: Swarm robotics, neural networks, evolutionary algorithms)
2006-now: Researcher at ISTC-CNR (Topics: Open-ended learning, hierarchical behaviour, multiple skill, goal-directed behaviour, intrinsic motivations, reinforcement learning; robots, animals, brain)
2006-now: Founder and Principal Investigator of the Research Group ''Laboratory of computational Embodied Neuroscience'' (LOCEN-ISTC-CNR)
2006-2009: Principal investigator for ISTC-CNR of EU Integrated Project ''ICEA – Integrating Cognition, Emotion and Autonomy''
2009-2013: Coordinator of EU Integrated Project "IM-CLeVeR – Intrinsically Motivated Cumulative Learning Versatile Robots"
2016-2020: Coordinator of EU Project "GOAL-Robots – Goal-based Open-ended Autonomous Learning Robots"
1998-now: About 100 international publications in developmental robotics and computational system-level models of brain and behaviour
Research method and topics
Go here to have more details on my research method and topics:
LOCEN research method and topics.
Selected publications in (the pdf of the papers are downloadable from here):
Reinforcement-learning, hierarhy, and learning of multiple skills in animals and robots
Seepanomwan K., Caligiore D., Baldassarre G., Cangelosi A. (2013). Modelling mental rotation in cognitive robots. Adaptive Behavior, 21 (4), 299-312.

Ciancio A. L., Zollo L., Baldassarre G., Caligiore D., Guglielmelli E. (2013). The Role of Learning and Kinematic Features in Dexterous Manipulation: A Comparative Study with Two Robotic Hands. International Journal of Advanced Robotic Systems, 10, E1-21.

Baldassarre, G., Mirolli, M. (eds.) (2013). Computational and robotic models of the hierarchical organisation of behaviour. Berlin: Springer-Verlag.

Caligiore D., Borghi A., Parisi D., Ellis R., Cangelosi A., Baldassarre G. (2013) How affordances associated with a distractor object affect compatibility effects: A study with the computational model TRoPICALS. Psychological Research, 77(1), 7-19.

Thill S., Caligiore D., Borghi A. M., Ziemke T., Baldassarre G. (2013). Theories and computational models of affordance and mirror systems: an integrative review. Neuroscience and Biobehavioral Reviews, 37, 491-521.

Caligiore D., Borghi A., Parisi D., Baldassarre G. (2010). TRoPICALS: A Computational Embodied Neuroscience Model of Compatibility Effects. Psycological Review, 117(4), 1188-1228.

Mannella F., Baldassarre G. (2007). A neural-network reinforcement-learning model of domestic chicks that learn to localise the centre of closed arenas. Philosophical Transactions of the Royal Society of London Series B-Biological Sciences, 362(1479), 383-401.

Baldassarre G. (2002). A modular neural-network model of the basal ganglia's role in learning and selecting motor behaviours. Journal of Cognitive Systems Research, 3(2), 5-13.
Intrinsic motivations in animals and robots
Fiore V. G., Sperati V., Mannella F., Mirolli M., Gurney K., Firston K., Dolan R. J., Baldassarre G. (2014). Keep focussing: striatal dopamine multiple functions resolved in a single mechanism tested in a simulated humanoid robot. Frontiers in Psychology - Cognitive Science, 5 (124), E1-17.
Baldassarre G., Mirolli M. (eds.) (2013). Intrinsically Motivated Learning in Natural and Artificial Systems. Berlin: Springer-Verlag.

Baldassarre G., Mannella F., Fiore V. G., Redgrave P., Gurney K., Mirolli M. (2013). Intrinsically motivated action-outcome learning and goal-based action recall: A system-level bio-constrained computational model. Neural Networks, 41, 168-187.

Mirolli M., Baldassarre G., Santucci V. G. (2013). Phasic dopamine as a prediction error of intrinsic and extrinsic reinforcement driving both action acquisition and reward maximization: A simulated robotic study. Neural Networks, 39, 40-51.

Baldassarre G. (2011). What are intrinsic motivations? A biological perspective. In Proceedings of the IEEE Conference on Developmental Learning and Epigenetic Robotics (ICDL2011), e1-8. IEEE. (

Second Best Conference Paper

).
Schembri M., Mirolli M., Baldassarre G. (2007). Evolving internal reinforcers for an intrinsically motivated reinforcement-learning robot. Proceedings of the 6th IEEE International Conference on Development and Learning, e282-287. IEEE.
Extrinsic motivations in animals and embodied systems
Mirolli M., Mannella F., Baldassarre G. (2010). The roles of the amygdala in the affective regulation of body, brain and behaviour. Connection Science, 22(3), 215-245.

Mannella F., Mirolli M., Baldassarre G. (2010). The interplay of Pavlovian and instrumental processes in devaluation experiments: a computational embodied neuroscience model tested with a simulated rat. In Tosh Colin and Ruxton Graeme (eds), "Modelling Perception With Artificial Neural Networks", 93-113. Cambridge, Cambridge University Press.
Collective, evolved, self-organising robots
Baldassarre G., Nolfi S. (2009). Strengths and synergies of evolved and designed controllers: a study within collective robotics. Journal of Artificial Intelligence, 173, 857-875.

Baldassarre G., Trianni V., Bonani M., Mondada F., Dorigo M., Nolfi S. (2007). Self-organised coordinated motion in groups of physically connected robots. IEEE Transactions on Systems Man and Cybernetics Part B-Cybernetics, 37(1), 244-239.

Baldassarre G., Parisi D., Nolfi S. (2006). Distributed coordination of simulated robots based on self-organization. Artificial Life, 12(3), 289-311.
Research
Publications
No results. Please change your search criteria above.
Projects
Leading
Thu, 01/01/2009
-
Tue, 30/04/2013
Sun, 01/01/2006
-
Thu, 31/12/2009
Taking part in
Resources
For the scientific resources, see the resources with the Research Group I coordinate:
Here I report some of my main thoughts on scientific issues and other issues of life:
Thoughts of Gianluca Baldassarre
Here I report thoughts of other people, on science and other issues of life, that I strongly like:
Thoughts of other people that I strongly like
Here I report some of my poems (in English and Italian)